Efficiently running a modern tank farm would be impossible without tank gauging. Our customers rely on our software to control inventories and manage their site operations, giving them safe and efficient bulk storage sites.  
Launched in 1994 our tank gauge software VTW was one of the first to run on Windows with a graphical user interface. Our ethos is supporting our customers to allow them to get the most out of the equipment they have got while allowing them to choose the best new equipment for their needs regardless of the manufacturer.  Our tank gauging system, VTW, is scalable, customisable and compatible with major vendors' level gauges; including Honeywell Enraf, Emerson/Saab, Varec, Whessoe and Endress+Hauser. Supporting sites of up to 1,500 tanks. 
With over 600 installations worldwide, our customers vary from independent bulk liquid storage companies to refineries, to networks of manned and unmanned oil depots. VTW Tank Gauging Software gives operators the tools they need to ensure the safe storage and movement of products, whilst optimising the use of tank capacity and improving efficiency.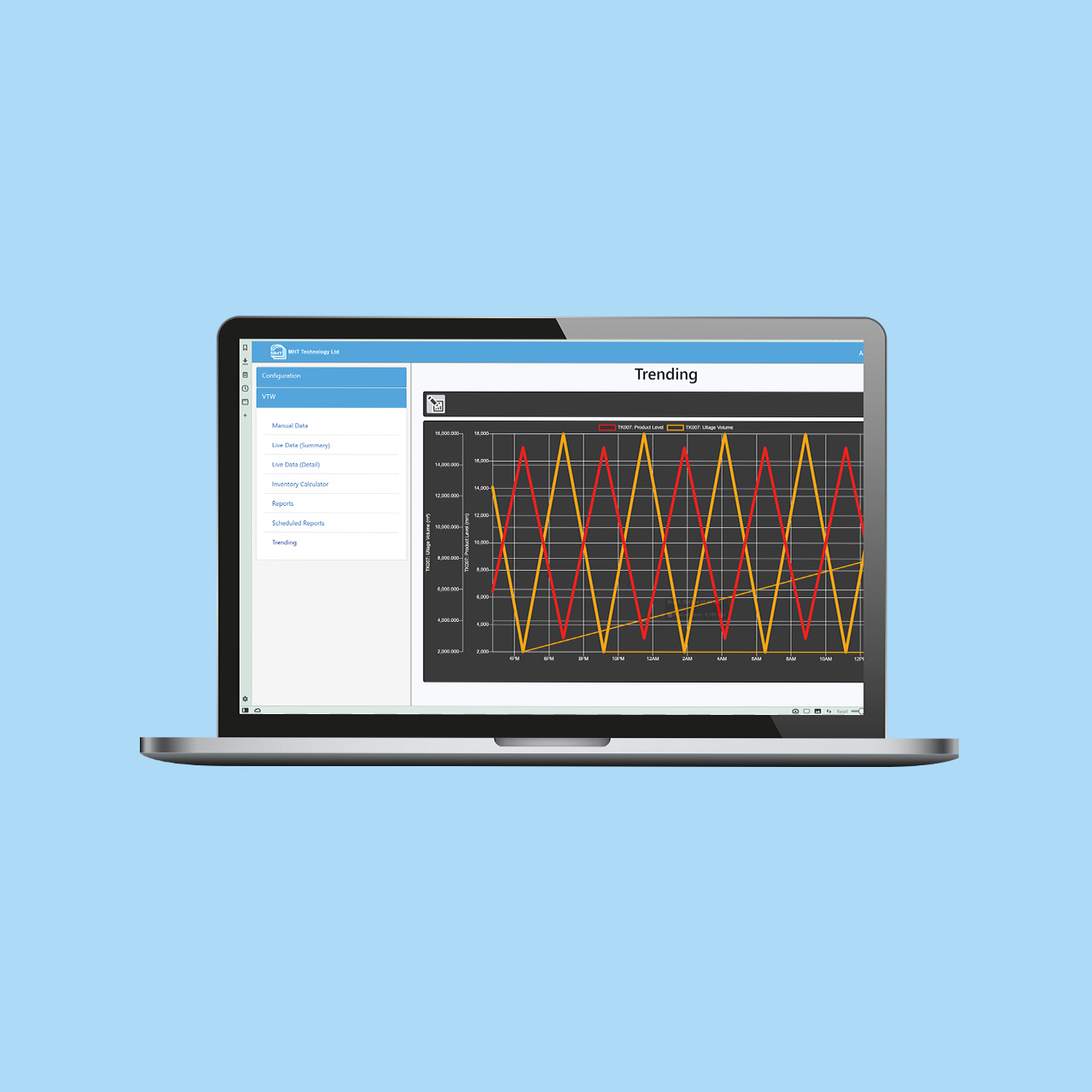 VTW has undergone a process of continual innovation over 25 years, often incorporating feedback and requests from customers across the world. All our software is designed, developed, and tested in-house by a team of bulk liquid storage and handling experts. One of the great advantages MHT has is that we can be flexible and adapt to meet the requirements of different sites. The latest version of VTW includes the core features of a homepage overview and grid view, data trending, movements, security and data integrity, SCADA screens, alarm/event viewer, audit trails, and the new Business Information Server.
Supports sites of up to 1,500 tanks.
Windows 10 / Windows Server 2019 compatible.
Real-Time and Historical Data.
Redundant Systems.
Alarm Management to improve safety.
Movements package.
Real-Time and historical data.
Reports on Demand.
SCADA Designer
Business Information Server
RMS2 – radio annunciation 
HM21 Inventory Calculations 
Our software for LNG offers a total LNG Tank Storage and management solution for peak shaving, receiving and production LNG Facilities. The LMS system has been designed to interface to all instruments commonly found on LNG storage tanks, and to collect and present the instrument data through a range of intuitive graphical user interfaces. The software can be used alongside our hardware; Field Display, Mini Reciever and Temperature Multiplexer.
Tank Gauging system for Liquefied Natural Gas (LNG).
Windows 10 / Windows Server 2019 compatible.
Can operate in a simple standalone configuration or as a fully redundant system.
The LMS system has a flexible and scalable architecture allowing it to be tailored to a number of different applications easily.
Summarises data from Mini Receiver, host systems, and other 3rd party field gateways.
Use alongside the Field Display and Temperature Multiplexer for a full LNG management solution.
Uses industry-standard calculations.
Rollover Prediction module available.
Live data.
Redundancy on the measurement of level
and temperature.
Real-time and historical trending.
Alarm management and Annunciation.
Instrument support.
LNG rollover Predication model (Optional).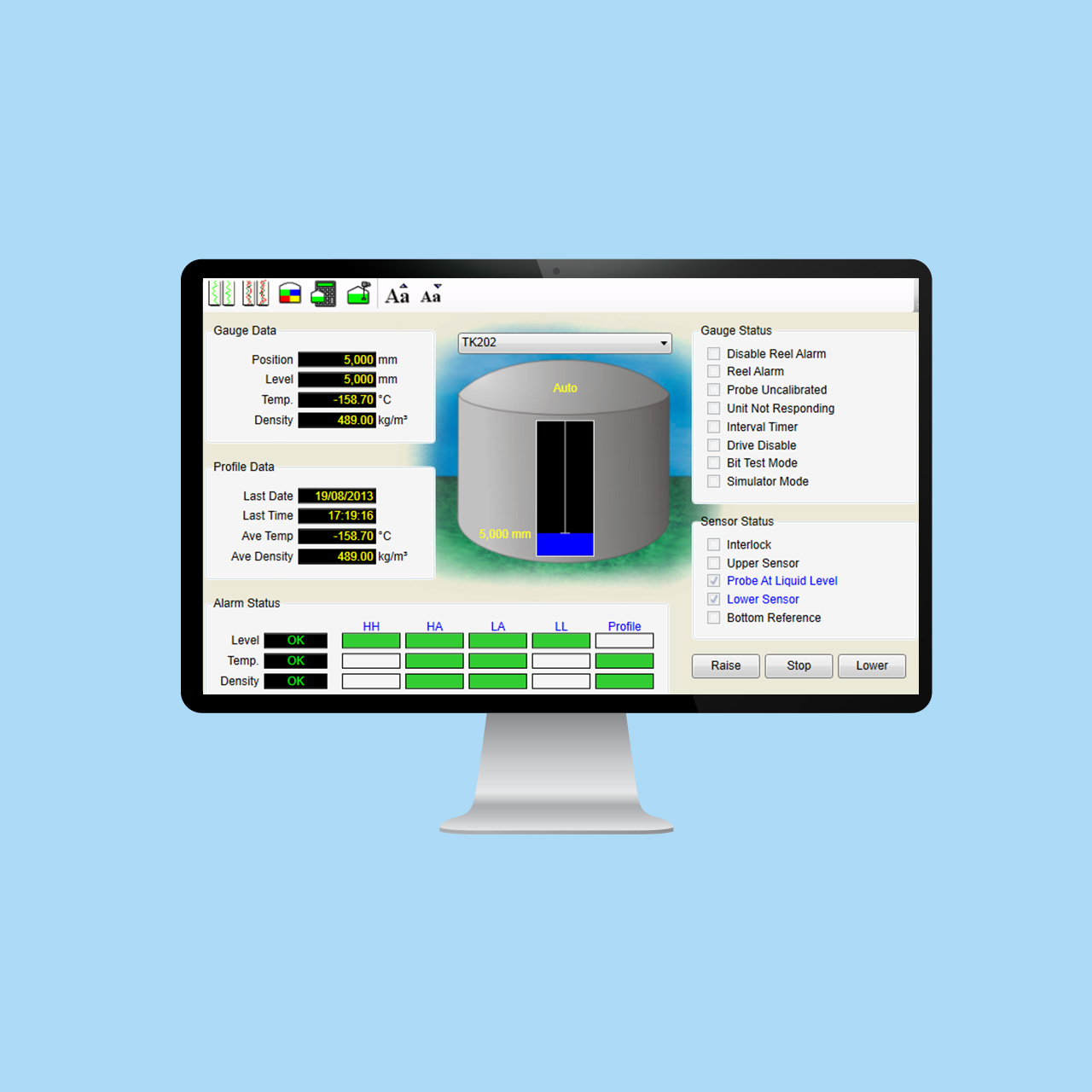 VTW Tank Gauging Software 18.3.1
With over 600 installations worldwide VTW is a scalable tank gauging and inventory management solution designed to adapt to any site requirement regardless of size or budget.
mini receiver 
The Mini receiver is a smartly compact tank gauging and tank inventory management system that consolidates devices from multiple vendors into a single unit for cost-effective bulk liquid storage.
rms2
MHT Technology Ltd's new radio messaging system 'RMS2' was launched in March 2020, enabling digital tank gauging systems to send timely warning notifications using existing radio systems.
What is tank gauging?
When liquids are stored in bulk quantities one of the more challenging aspects is simply knowing how much material is in your storage vessel (tank). Tank Gauging is the means by which the quantity inside the tank is established.
How does a tank gauging system work?
At its simplest, a manual dipstick is used to measure the level of liquid inside the tank. Having determined the level in the tank you can calculate the volume of liquid in the tank that would result in this level and the volume of space in the tank (ullage) that could be filled with liquid. A tank gauging system just automates this process by using an electronic level gauge to determine the level in the tank and a computer to calculate the volumes. By monitoring the changes in level the computer can also determine flow rates in and out of the tank, and issue alarms should the tank be in danger of being overfilled.
What is a gauging system?
Gauging systems are used to estimate or gauge a quantity. For example, the amount of oil stored in a tank can be gauged by measuring the depth of oil inside the tank and mathematically estimating a volume to correspond to that measurement.